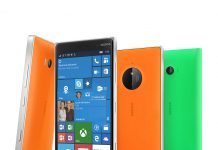 AT&T is no longer selling Microsoft's Windows Phone platform smartphones. Unlocked devices can still work on the network, but the carrier is abandoning the platform after weak sales.
Full game streaming with the social aspects of Beam are now available on the Xbox One through the Xbox Insider Program. The full experience for all users will arrive this spring.
After recent MondgoDB security issues, Microsoft is welcoming developers to Azure DocumentDB. In a blog post, the company has talked about the benefits of making the change.
Xbox's Phil Spencer talks plan for Xbox in 2017, summing up releases, Scorpio, and indie games.
A LinkedIn profile for a Microsoft contractor lists the Surface Pro 5 as one of the devices in development. The follow up to the Surface Phone 4 is widely expected to launch this year.
TSUBAME3.0 will utilize Nvidia Tesla P100 GPUs to reach up to 47 PFLOPS of AI computing power and 12.2 petaflops of double precision power.
Microsoft's President's Day Sale has hundreds of items on offer, from the Surface line, to laptops, to Xbox and PC games. The offers only run in the US and will end on February 25th.
A new study by Princeton and Stanford finds that anonymous web browser activity is linked to social media, potentially allowing third parties to target specific users by identity.
Indian automotive giant Tata Motors will leverage Microsoft's Azure and other technology to develop in-car systems and to further research into autonomous tech.
Users on iOS and Android can now test several new features such as in-call reactions, an integrated camera on Skype Chat and messaging reactions.
The Healthcare NeXT initiative's first partner is the University of Pittsburgh Medical Center, which will work with Microsoft to create new and innovative industry solutions.
It appears hackers have stolen the source code that Yahoo uses to generate cookies, causing another security breach.