The Surface Phone could be confirmation of a hardware push I suspect Microsoft is embarking on. Through the short history of Microsoft's Surface line of products, the company has steered a path towards premium design. Picking through the company's strategy, there are obvious nods to Microsoft's two main competitors, Apple and Google.
While Steve Ballmer set Microsoft's hardware ambitions on course with the Surface range, his plans for the company to become a product hardware brand were misguided. However, that does not mean Microsoft should not make any hardware at all. Indeed, in terms of the products the company currently offers and what the Surface Phone could represent, it seems Microsoft is taking the best of Apple and Google and merging opposing ideas.
This is not a baseless assertion. When Microsoft launched the Surface Book in 2015, Panos Panay spoke about Microsoft's push towards premium with the Surface brand. Speaking to The Verge the corporate vice president for Surface Computing at Microsoft said the company wants to redefine categories:
"In Surface we look at it that we're going after premium and we want to reinvent categories," explains Panay. "That's why it [Surface Book] was never just a laptop. Let's inspire, let's push to reinvent."
https://www.youtube.com/watch?v=BzMLA8YIgG0
From a perspective of hardware, Microsoft is embarking on a premium led strategy. The Surface Pro 4 and Surface Book are high-end products with the specs and price tags to match. When it finally came time for Microsoft to build a PC, the company decided not to do it by the numbers. The recently launched Surface Studio is a tour de force of computing hardware, and again has a high cost to show for it.
Apple-Like Obsession with Premium
As well as cramming the best specs into its devices, Microsoft is also displaying an attention to detail and pursuit of pure design that only Apple equals. The parallels with Apple are telling in terms of Microsoft's recent hardware. The company clearly believes it can carve a piece of the market in the high-end sphere.
Indeed, the last three major Surface devices (Pro 4, Book, and Studio) have put Apple firmly in Microsoft's crosshairs. The company has set a course for Cupertino and is attempting to muscle in on Apple's unique market position.
If we remove the popularity contest elements of Apple's success, it is hard to argue that the Surface Pro 4 is not the sleek laptop replacement Apple wants the iPad to be. Likewise, the Surface Book is a potent match and even a superior of any MacBook, while the Studio is and iMac competitor in terms of performance and design.
"I'm thinking continuously about premium devices," Panay added in another interview with Wired last year, "straight-up looking at Apple as my competitor."
The Google Approach
While a premium push is clearly underway, Microsoft also sees its devices as more than just a conduit to more customers. Unlike Apple's closed ecosystem, Microsoft also has the Windows platform that ultimately relies on original equipment manufacturer (OEM) hardware to drive Windows 10 growth. With that in mind, the Surface line of devices follows the same path Google has walked with its limited hardware.
The main focus of Google's Nexus devices was to serve as references for other OEMs, mainly to show the best specs for Android. Microsoft is taking this approach and expanding it with Windows 10 and its Surface products.
Microsoft has made it clear that Surface devices are a pointer to OEM's to show them how Windows products can be classy, look good, carry good specs across price models, and appeal to customers. Panay said in his Surface Book interview that Microsoft's devices do give OEMs a vision for making Windows products desirable:
"The OEMs, if they're going to make awesome devices I'd love it. That's how we think about it."
It is easy to pass by the fact that the Surface Pro range of hybrid devices helped define a category. The laptop/tablet market is one of the only home computing areas enjoying growth. As tablet and PC sales continue to slide, the hybrid market is starting to thrive, with the Surface Pro 4 at the head of the pack. OEMs have taken Microsoft's lead and are now developing Surface-like devices.
Just recently, we spoke with Eve Tech co-founder Konstantinos Karatsevidis. The startup company has created the crowdfunded Eve V, a hybrid that Eve Tech describes as a Surface Pro 4 killer. This is not a boastful claim, the device is spec'd higher than Microsoft's flagship hybrid and is more affordable. However, Microsoft actually welcomes this competition and positively encourages it.
Karatsevidis says that Microsoft was eager to help in getting Windows 10 implemented on the device, while he pointed to the company's overall goal of getting Windows on as many devices as possible:
"[Microsoft] helped us to make sure that Windows, especially Windows 10, works fine, that our device would not leave the factory without really working well with Windows 10.
You have to know that Intel is interested in selling as many CPUs as possible and Microsoft wants to sell as many licenses as possible for Windows. Microsoft saw big potential in our concept of crowd development."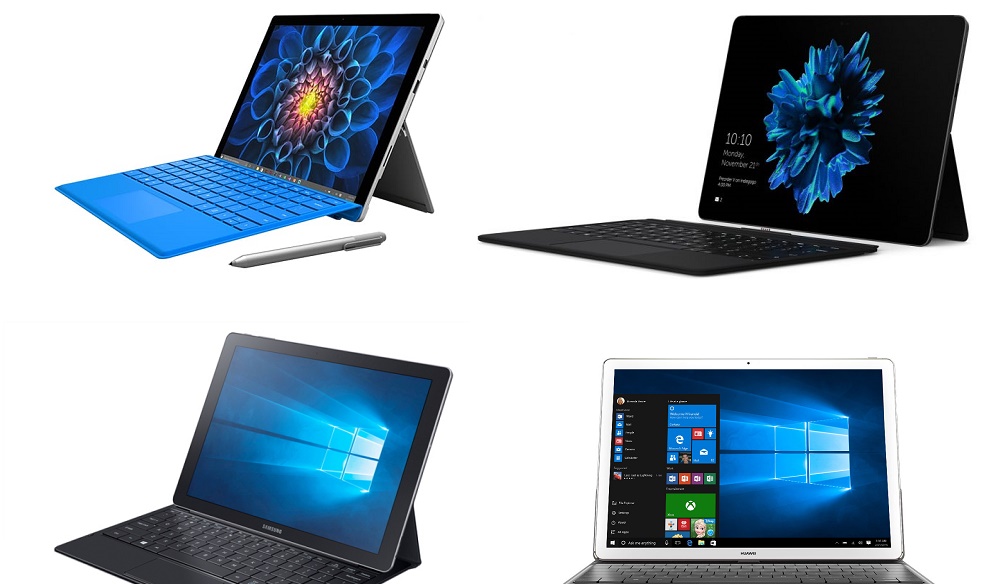 While the term "Surface Clone" may seem derogatory, Microsoft promotes this idea of numerous hybrids and laptops that ultimately borrow many of the ideas of the Surface Pro 4 and Surface Book. As well as the Eve V, we have seen products such as the Samsung Galaxy TabPro S, Huawei Matebook Convertible, and the Lenovo Miix 510 arrive with very similar designs and specs to the Pro 4.
Surface Phone to Further Hardware Push
Microsoft has blended the ethoses of Google and Apple on its current Surface devices, but what about possible future devices? The Surface Phone is an often rumored and almost mythical device that is constantly reported to be arriving in 2017. It is suggested the handset will have business-class specifications and will announce Microsoft's return to smartphones after pulling its Lumia brand earlier in the year.
When Microsoft purchased Nokia's mobile output and the Lumia brand in 2014, the company's $7.17 billion bought it a readymade business. Nokia, once the biggest maker of cellular devices, had slipped from its pedestal, but was still a massive name in the industry.
Indeed, Nokia's push with Lumia resulted in Windows as a mobile platform gaining some traction. Not Android or iOS levels of traction of course, but enough to allow Microsoft to think, what if? It is easy to forget that any momentum gained at that point was done on the back of one company, Nokia.
With the respected Lumia brand now under its wing, Microsoft continued Nokia's ethos and pushed out plenty of low-end budget smartphones. Indeed, high-end flagship devices were conspicuous by their absence for more than a year after Redmond dug deep into its pockets for Lumia. Microsoft was merely treading in Nokia's footsteps.
In other words, Microsoft itself has never really had a clear mobile hardware strategy. The Surface Phone could change that. If we take into account rumored specs and what Microsoft is doing with other products.
The Surface Phone could be the first handset to display Microsoft's hardware strategy in the mobile market. It will almost certainly carry the attention to detail and beauty of other Surface Products, while it will also land with the latest mobile specs. In an interview with ZDNet, Microsoft Executive Vice President of Windows and Devices Terry Myerson, confirmed that Microsoft would indeed return to mobile hardware once tech aligns:
"Technically, there are really two things that are unique about Windows Mobile. One is cellular connectivity and the other one is the ARM processors that are there. And I think both cellular connectivity and ARM processors have a role in the technical landscape of the future.
So we're going to continue to invest in ARM and cellular. And while I'm not saying what type of device, I think we'll see devices there, Windows devices that use ARM chips. I think we'll see devices that have cellular connectivity.
When you stop investing in these things, it's super hard, super, super hard to restart. And at Microsoft we have a few of those examples where we stopped. Sometimes, when you're investing into growth. It's easier, but when you're investing for technical strategy or things like that, sometimes people can question it — like you're doing right now. But especially among your readers, I don't think there's much debate that ARM processors have a role in the future. And cellular connectivity does as well."
Microsoft wants to come to mobile and reinvent the category like other Surface devices have. Of course, it is easier to breathe new life into categories that are static, like tablets and PCs. The mobile market reinvents itself yearly, so Microsoft will have to be more creative in how it plans to disrupt the market.
The most likely push for the company is to pursue business customers, in a similar manner to the HP Elite x3. The Surface Phone will certainly continue Microsoft's inspiration from Apple and Google hardware models, however the company will have to think about how it can redefine the smartphone market. More importantly, the handset will be designed to show OEMs how to get the most from Windows 10 Mobile.
While not ever speaking specifically about a Surface Phone, Panay has often said that Surface products will always stick to the ethos Microsoft has created for the division:
"Over time you want a consistent thread between the products, especially the hardware as well," Panay to The Verge. "I think what you have to think with overall devices is making sure we are able to get that consistent premium fit and finish that people are expecting from Microsoft."