Just yesterday I was speculating on the potential release date for Windows 11 22H2 following the first availability of ISO files. It was clear the launch of the first Windows 11 feature update was imminent. Fast forward to today and Microsoft has announced the general availability of the Windows 11 2022 Update.
Before getting into the features and details of this update, it is worth noting Microsoft has gone with the branding first discussed back in August. Specifically, the Windows 11 2022 Update name. Microsoft says Windows 11 will only receive one major update each year, so attaching the year to those updates makes sense. So, we can expect next year's release to be called Windows 11 2023 Update.
Now that Windows 11 2022 Update is rolling out to over 190 countries, it is reaching users in the usual staged manner. This means some users/regions will receive the update before others. Microsoft has published a Windows Blog post discussing the main changes to the platform.
Start Menu/Taskbar
Drag and Drop: Making its return to Windows, drag and drop in the Start menu.
Recommended Content: Microsoft is reducing the amount of recommended content is shows in Start.
Folders: Initially absent in Windows 11, Start menu folders are now making their return.
Microsoft Teams: On the taskbar, Teams users can now access microphone muting and window sharing.
Quick Settings: Bluetooth actions in the Quick Settings, allowing quick connection to Bluetooth devices.
File Explorer
Pin Files to Favorites: File Explorer now allows users to pin individual files (not just folders) to Quick Access, which has been rebranded as "Favorites".
Folder Previews: The ability to preview folders is now available alongside the existing file previewing feature.
OneDrive Integration: File Explorer now works more seamlessly with OneDrive, including information on available space and sync status.
Copy Path to File: There is a new shortcut (Press Ctrl + Shift + C) to copy the path to the selected file.
UI Improvements
Volume Slider: Microsoft has finally replaced the old volume slider, a left-over from Windows 8.
Windows Spotlight: Windows 11 2022 Update adds support for Windows Spotlight on desktop. Change desktop wallpaper with images from Bing.
Lock Screen: A new design for the Lock Screen allows the media controls to fit with the overall aesthetics of Windows 11.
Icon Updates: Minor tweaks to icons and the Mica effect makes them more visible and easier to understand.
Settings App
Microsoft is continuing its years-long migration from the Control Panel to the Settings app. In 2022 Update, the company is transitioning the following Control Panel features to Settings:
"The Programs & Features section of the legacy Control Panel now opens in the Settings app under the Settings > Apps > Installed Apps page.
Uninstalling Windows updates now happens in the Settings app, not the Control Panel.
Some entry points for network and devices in the Control Panel now redirect to corresponding pages in the Settings app.
Finally, you can manage advanced sharing settings in the "Advanced Network Settings" inside the Settings app. This includes Network Discovery, File and Printer Sharing, and Public Folder Sharing."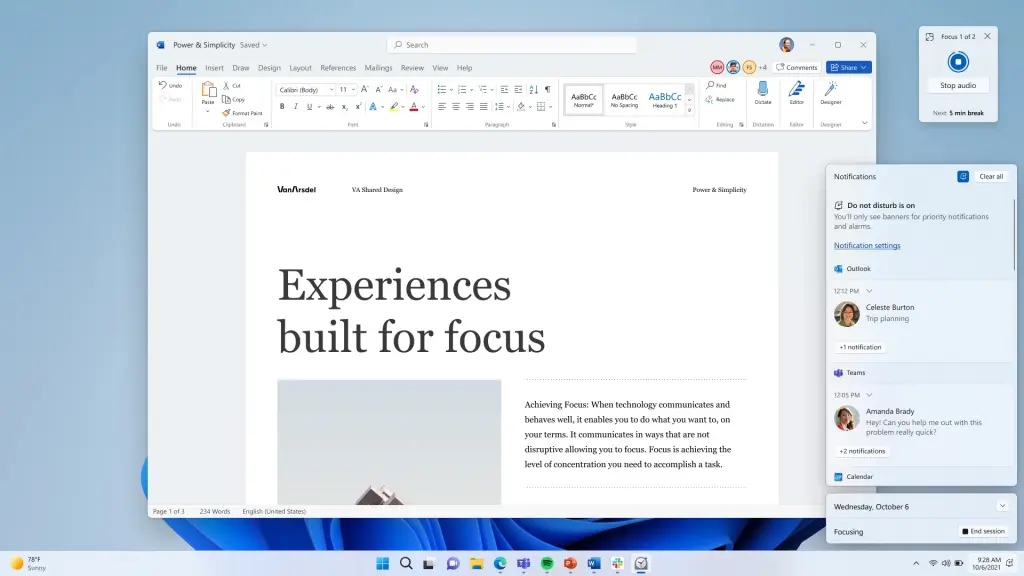 Elsewhere in the Settings app, Microsoft has made the following changes:
Do Not Disturb: Windows 11 now has a proper do not disturb (previously Focus Assist) that turns off notifications.
Focus: While similar, Focus is more advanced and allows users to focus on specific tasks by creating focus sessions.
Better AirPods Support: The introduction of wideband speech support improves audio quality on voice calls.
Task Manager
New Design: Microsoft is introducing the first visual update to Task Manager since 2012. Specifically, it now follows Dark Mode and system accents.
Efficiency Mode: The Task Manager now allows users to reduce apps or processes with high resource loads.
Accessibility
Live Captions: Users can now access Live Captions system-wide. Windows 11 can transcribe any audio, including from microphones.
Voice Access: A new feature that allows users to control the Windows platform with their voice.
Natural Narrator: Microsoft has given the US English version of Narrator more natural voices.
Tip of the day: The Windows Clipboard history feature provides the functionality across device, space, and time, letting you copy on one computer and paste the text days later on a different PC. All of it is possible via the Windows 10 clipboard manager, which lets you view, delete, pin, and clear clipboard history at will.
In our tutorial we show you how to enable the feature, clear clipboard history, and enable/disable clipboard sync to meet your preferences. You can also create a clear clipboard shortcut for quick removal of stored content.