Just four days ago, Microsoft released a huge update for Microsoft Teams and today the company announced the service's general availability. The company's chat-based workspace is expected to be an answer to Slack and is designed exclusively for businesses.
Microsoft announced Teams back in November as part of Office 365 and has been available as a preview since then. The Redmond giant describes Teams as a "hub for teamwork" which offers an enhanced meeting experience.
The app is available on Windows, Android, iOS, Mac, while there is also a web application. Microsoft Teams features Skype video and audio calls, Office 365 integration (Word, Excel, and PowerPoint files), OneDrive support and much more.
Microsoft Teams' features
Since the launch of Teams' preview, more than 50.000 companies worldwide started using Microsoft's chat-based workspace. The company added more than 100 new features to Microsoft Teams since November and here are the most significant ones:
1-on-1 calling on mobile, including video calling on Android
Support for public teams, which anyone in an organization can discover and join
Mobile management with Microsoft Intune
Ability to email a channel
Support for screen readers, high contrast, and keyboard-only navigation
Turning on Microsoft Teams
As mentioned before, Microsoft's chat-based workspace is part of Office 365. Admins who want to turn on Microsoft Teams should open the Office 365 admin center, click on Settings, Services & Add-ins, and choose Microsoft Teams. From the Office 365 admin center, administrators can also:
Choose how users' profiles are configured
Turn off video and screen sharing in calls and meetings
Control whether to allow various kinds of content (animated images, memes, and stickers)
Turn off support for tabs from Microsoft partners or side-loaded applications
Choose whether to use bots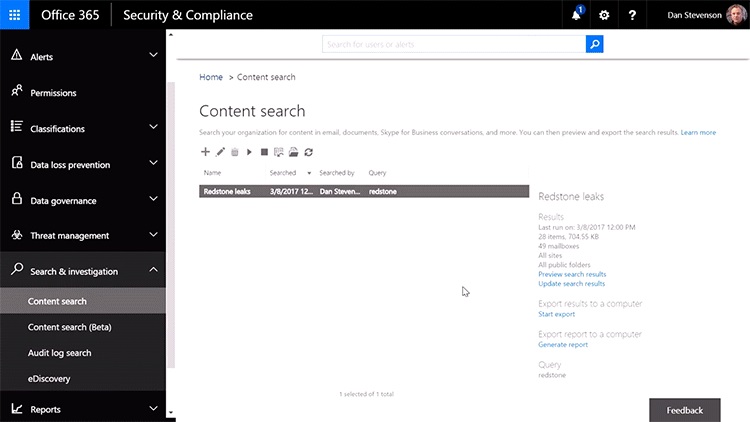 Bots in Microsoft Teams
Competing against chat apps such as Slack, Google´s new Hangouts Chat, and Hickup, Microsoft Teams should have its own bots. And Microsoft has made sure it does, initially offering more than 15 bots, with more to come in the future.
Here is the list of the available bots in Microsoft Teams:
T-Bot: The Microsoft Teams' guide. Features a chat service, can answer questions and offers a FAQ section as well as video tutorials.
Growbot: Gives coworkers the ability to exchange kudos and mini bonuses
Statsbot: Delivers scheduled reports and shares data from sources such as Google Analytics and Salesforce
Polly: Used for polls among coworkers
Leo: Trains managers to be better at providing feedback while helping them track their own productivity
Backtrack: Tracks packages from UPS, FedEx, and the United States Postal Services (USPS)
StubHub: Shares local events
Assistant @ Zoom.ai, Meekan: Plan calendar events
Hipmunk: Books flights and hotel reservations
AzureBot: Provides access to the Azure cloud
Tracking Time: Allows users to put certain tasks on the clock or track themselves
Zenefits: Helps employees schedule paid time off without leaving Teams
Spacebot: Shares NASA'S Photo of the Day astronomy shots
Kayak, Moovel: Travel bot and city trip planner bot respectively
Emojify: Allows the use of emojis in messages
Custom bots are also available for Microsoft Teams, while developers can use the Microsoft Bot Framework to make bots of their own.
Microsoft Teams vs. Slack: 85 million vs. 4 million users
Back in November, when Microsoft announces Microsoft Teams, it became clear that the app would become a competitor for Slack. To put things into perspective, Teams has now become available for 85 million active users of Office 365, while Slack has 4 million daily users and 1.25 million paying users.
It's safe to assume that Microsoft Teams will chip away at Slack's current and potential users, as long as the app gets new integrations constantly. Microsoft has promised that "more than 150 integrations are available or coming soon" at Teams.