There is a lot of buzz around OLED screen technology and it is becoming the go-to display choice for premium mobile devices. Microsoft will likely turn to the tech again for the Surface Phone, but Apple's own (new) curiosity about OLED displays could present Microsoft with a problem. It's all about supply and demand.
Microsoft's next two Surface devices could define the company's hardware strategy for the near future. The Surface Pro 5 will arrive with a lot to live up to, but has plenty to build on. The Surface Phone, on the other hand, will land on the market as a plucky underdog. For the former, building on earlier success should provide a winning formula, but for the Surface Phone, Microsoft will have to shoot for the biggest name in the business. Apple.
While often described as an innovator, Apple's true ability is entering a market just as it is mature enough and then pushing it to the next level. Of course, the OLED market is already sizeable enough, mostly led by Apple's great rival Samsung. The South Korean company has been a driving force in OLED development, including creating its own SUPER AMOLED technology.
Apple has clearly seen enough of OLED to want some of the action. Cupertino is reported to be ready to use AMOLED technology on its iPhone 7s and 2017 range of iPads. This is actually fantastic news for Samsung, a major supplier of OLED screen tech. It could be more problematic for Microsoft, as it could be left out in a supply wilderness when putting the Surface Phone through development.
With Apple shifting its iPads to OLED, could Microsoft do the same with the Surface Pro 5? We will discuss why this is unlikely to happen, but first it is important to know what OLED is, how it compares to LCD, and why it is growing in popularity amongst companies.
Explaining OLED Technology
OLED (organic light-emitting diode) uses a thin organic film that has electrodes at either side. When an electric charge passes through the film, light is emitted. The AMOLED technology that Microsoft used on its Lumia 950 XL, for example, is an improved version of the normal OLED technology.
Active-matrix organic light-emitting diode (AMOLED) technology places an additional layer of semiconducting film behind the normal OLED panel. This film passes a current more efficiently and allows the activation of each pixel. Increased speed can be up to 1000 times faster than LCD, the main competing technology of OLED.
AMOLED displays sport a lot of pixels and can pack in higher definitions, while also having a profound effect on color. Because each individual pixel provides light (instead of a backlight), AMOLED screens are excellent at reproducing black. Each pixel can be individually dimmed, allowing for a true deep black that is hard to replicate on LCD.
A wider color gamut is also part of the AMOLED arsenal, giving these displays a wider range of colors. However, as some Samsung critics will point out, colors can also get over-saturated and too bright.
Speaking of Samsung, the company developed its own propriety AMOLED technology called Super AMOLED. This version allows touch sensitivity to be built into the screen, whereas normal AMOLED panels require an added touch sensitive film placed atop the screen.
OLED Demand
It is worth noting that LCD is not without its own merits, and Microsoft will almost certainly continue to use the technology on its Surface Pro hybrids. Before discussing that possibility, it is clear that AMOLED displays are the future of smartphones. Numerous Android OEMs and Microsoft have already used the technology to good effect.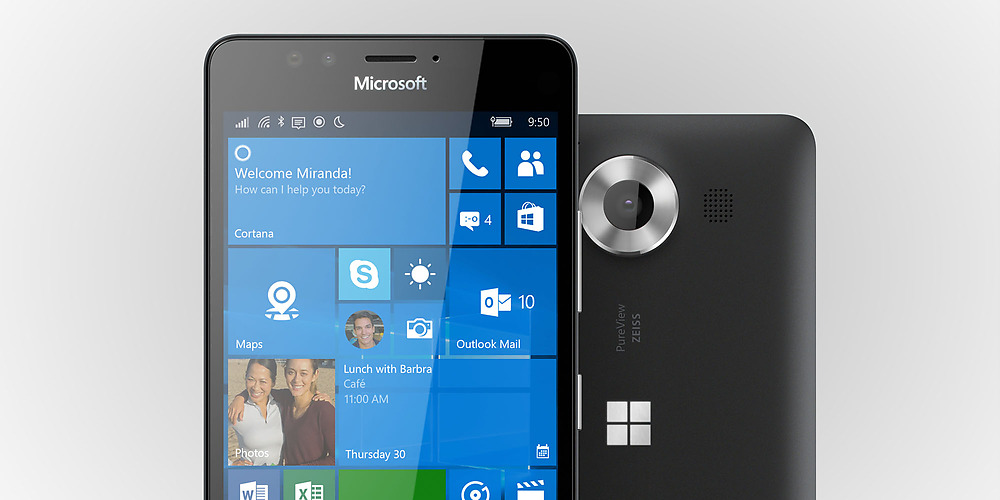 For all the flaws the Lumia 950 and Lumia 950 XL may have had, the Quad HD screens on both were simply excellent. It makes sense that Microsoft will once again turn to AMOLED when developing the Surface Phone. Of course, any mention of the company's rumored flagship comes with the obligatory caveat that Microsoft has not yet actually officially announced this device even exists.
However, where there is smoke there is usually fire. The Surface Phone has been making a lot of smoke. The handset will be a business class smartphone flagship that is expected to arrive sometime in 2017, with a fall launch the most likely scenario.
Unfortunately for Microsoft, the Surface Phone is going to go toe-to-toe with Apple's iPhone 7s, which will also arrive late in 2017. Cupertino is now known to be very interested in using OLED technology on its new flagship and the demand that comes with that is already straining limited supplies.
AMOLED Supplies
Apple making the inevitable move to OLED has critics saying the company is running out of innovative ideas. It also has OLED display manufacturers excited and worried at the same time. Excited because a contract for millions of devices is on the horizon, but worried because supplies are likely to be very strained.
When discussing AMOLED manufacturers, there are really four companies that Apple could turn to. Samsung Display Co., LG Display Co., Sharp Corp., and Japan Display Inc. are the leading makers of the technology.
Apple could get all those companies to make some screens. The company already works with LG Display for the OLED screens on the Apple Watch, for example. However, reports suggest that Samsung will become the sole supplier of Apple's iPhone 7s AMOLED screens.
Cupertino could order as many as 90 million panels for its devices. The iPhone 7s marks the tenth anniversary of the handset and Apple is presuming mammoth sales figures. With 90 million OLED screens in the making, OLED supplies for Microsoft and the Surface Phone could dwindle.
You may think that Redmond will simply turn to one of the other major OLED panel suppliers. That works in theory, but maybe not in practice. Making OLED screens is actually a painstaking process that does not rely on an assembly line. A special machine (ELVESS OLED machine) made by Japanese firm Canon Tokki makes the panels and a fraction of finished screens need to simply be discarded.
2016 is reported to have been a poor year for yields. Canon Tokki supplies its machines to the leading OLED manufacturers and the company currently has a backlog of two years. While the small 343-staff-firm says companies will be supplied for the coming years, Apple entering the OLED market could change the situation.
A sole supplier (or a combination of manufacturers) would likely need to purchases more machines from Canon Tokki to meet Apple's demands. The company only makes around 10 of these machines per year.
For Microsoft and indeed all other smartphone makers outside Samsung and Apple, this could mean being pinched out of the OLED manufacturing market for 2017.
Of course, it is worth noting that Microsoft is unlikely to be hugely optimistic about projected Surface Phone sales. In other words, the company is not going to be looking to order millions of AMOLED panels. But even so, there is a definite supply strain that the company needs to negotiate.
Surface Pro 5 AMOLED Display
The strained supply chain means the Surface Pro 5 is almost certainly going to arrive with an LCD screen as opposed to an OLED panel. Considering what I said about the benefits of OLED technology, that is surely a very bad thing? Well, not quite.
Firstly, the Surface Pro 4 shipped with an LCD screen and it is one of the finest tablet screens I have ever used. Don't just take my word for it, DisplayMate has described it has among the best ever tablet screens and the most accurate tablet screen ever made. The screen authority was effusive in its praise for Microsoft's flagship hybrid:
"Based on our extensive Lab tests and measurements on the display for the Surface Pro 4, Microsoft has produced an excellent professional grade high performance display for Windows that breaks a number of LCD Tablet performance records. In fact, the Surface Pro 4 has one of the very best and most accurate displays available on any mobile platform and OS. It joins near the top of a small set of Tablets that have excellent top tier displays – ideal for professionals that need a very accurate high performance display for their work, and for consumers that want and appreciate a really nice and beautiful display."
So, why is LCD great for the Surface Pro 5, but OLED better for the Surface Phone? Many of our readers probably remember the TV battle between LCD and plasma. For all the love of plasma, those panels had a problem with burn in. Despite its obvious advantages, OLED technology has this same problem.
Burn in basically means that an image on the screen that is static for too long can remain temporarily or even permanently even if the display has moved on. On a mobile device, this is not a huge problem because handsets are used many times throughout a day and the screen is never static for too long.
It is not unheard of for mobile devices to have evidence of burn in, but most users can avoid it. With a productivity minded machine like the Surface Pro 5 or indeed any computing machine, there is more risk of burn in.
Users tend to leave their PCs idle with the screen on, while there are certain parts of the Windows platform that are mostly static. A great example is the taskbar, which remains mostly unused and could present real burn in issues for OLED displays. Microsoft may take the risk on future Surface Pro models, but for the Surface Pro 5 the company will almost certainly stick with LCD.