Microsoft has been promising Cortana in Skype for almost two years, and it's finally here. Preview versions offered support with limited functionality, but a fully fledged release is now underway. Thanks to an update on iOS and Android, we now have a solid idea of her features.
Firstly, Skype adds the AI as a text chat contact for all users, but it's more than just one-on-one. While you chat, Cortana will now suggest 'in-context assistance' based on your message content.
With a single click, you can summon the AI to a conversation, detailing IMDB reviews, nearby restaurants, local film showings, and reminders. She'll even suggest replies to generic messages like 'how are you?' and 'what's up?'. If the suggestions are poor, you can hit a thumbs down button to send feedback.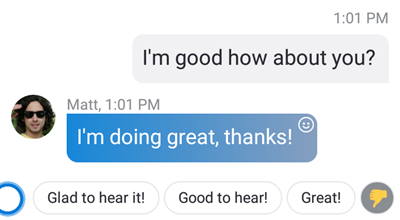 Of course, she also works as a standalone assistant, performing much of the same functionality. You can ask for weather reports, directions, or general facts, and get a reply in an easily digestible card style.
Currently, Cortana doesn't support voice or video chats, but it's possible that will change. Either way, the functionality reminds us of both Google Allo and Facebook Messenger and seems on-par with both.
The change also makes the reason behind the controversial redesign a little clearer. Users complained about a number of missing features in the modernized version, and Microsoft has been working to remedy that. Now, with the addition of Snapchat-like filters, 'highlights', bots, and Cortana, it's starting to look competitive with other offerings.
For now, though, it's a local experience. The new functionality began rolling out to U.S. users on Monday, on iOS and Android. It's not yet clear what that means for cross-country group chats, but no doubt it'll come to other regions soon.
If you haven't yet updated your Skype account to a Microsoft account, you'll have to do that, too. We assume that will allow consistency across devices in the future.
You can download the latest version of Skype from the App Store and Google Play.