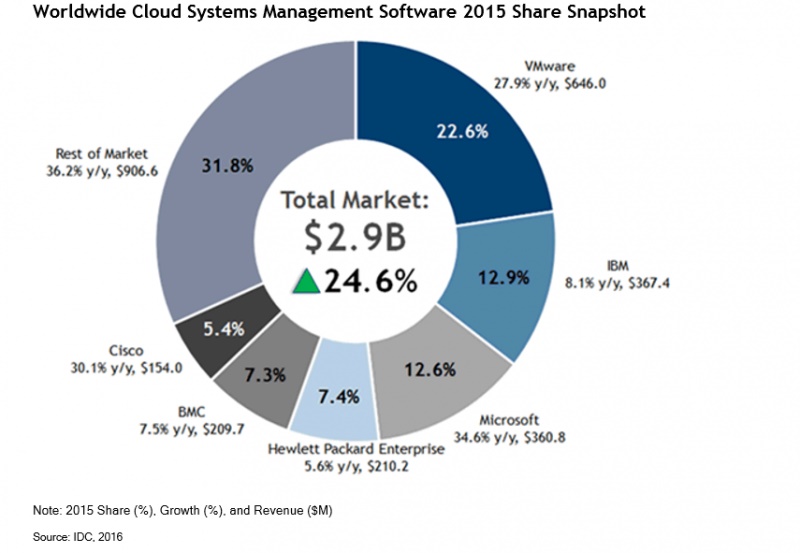 Microsoft's cloud strategy has been a driver behind the company's renewed success in recent years. Azure has grown on the back of CEO Satya Nadella's "cloud first" strategy and Microsoft's cloud management solutions are also growing.
Numbers from IDC show that Microsoft's cloud management services are now the third most used. In terms of raw figures, that means 12.6% of the market, behind both IBM (12.9%) and VMware (22.6%).
VMware's position is pretty dominant at the moment. However, IDC's figures for the whole of 2015 show that Microsoft could catch IBM soon. That would put the company second overall and with its cloud management services still growing.
Microsoft's growth mirrors a general uptick in the cloud industry overall. Across the whole market nearly $3 billion was made throughout 2015. That number represents a 25% increase year-on-year and it is still an industry that is putting itself in order.
That is evidenced by the fact nearly a third of the market is occupied by the "rest of market". In more mature industries (Mobile and Desktop OS for example) the market is less fragmented and "other" categories are minimal.
Growing Cloud
There is no doubt that the cloud is still a nascent concept, but companies are now embracing it. Faster services with increased security and functionality are enticing enterprise customers. Microsoft is focusing on tapping into this growing industry and becoming a leading name in cloud markets.
In its report, IDC stays: "Demand for datacenter automation software and SaaS solutions continues to expand as more and more organizations recognize that modern application architectures and multi-cloud infrastructure strategies require IT operations teams to be able to rapidly provision, update, and scale distributed applications, as well as physical, virtual, container, and cloud resources to support digital transformation initiatives."