A wide-ranging interview with the three leading Xbox executives presents Microsoft's strategy for the Xbox One and beyond. Phil Spencer, Mike Ybarra, and Shannon Loftis sat down with The Guardian for an extensive interview. During the discussion, the execs talked about the Xbox One S, VR, Project Scorpio, the future of gaming, and more.
Despite some sizeable announcements recently Microsoft has struggled through the Eighth Generation of the home console. The company has built a good platform around the Xbox One, but Sony's PS4 remains the runaway market leader.
However, the recent E3 conference was a rare win for Microsoft this generation. While Sony offered little, Redmond rolled out a new Xbox One S and announced Project Scorpio. When the 4K Project Scorpio super console drops next year, there will be three tiers of Xbox One.
One criticism from E3 was that that the Xbox One S is unnecessary. It is 4K compatible and 40% smaller than the original Xbox One, but with Project Scorpio on the horizon, do consumers need so much choice? Phil Spencer, who leads Microsoft's Xbox business, says the company wanted to detail its long-term strategy at E3:
"I mean, there are definitely business minds that would say, 'You should keep everything as close to the now-now-now answer as you can'," Spencer says. "Talking about the future is always a challenge … Being able to detail our vision and talk about it here at E3 will kickstart those conversations, and I know you will see some of the best creators thinking through ideas just like that."
Project Scorpio promises native 4K gaming, not the upscaled variety offered by the Xbox One S. Microsoft's thinking is, announcing it now gives developers plenty of time to get on board. The company has said there is no developer requirement for 4K compatibility (no Project Scorpio exclusives), but Microsoft wants developers to embrace Project Scorpio.
Is the Xbox One S necessary?
So, what about the Xbox One S? It is arguable that users could have just made do with the current Xbox One. Mike Ybarra, director of program management for Xbox, says there is the reason for the new S model.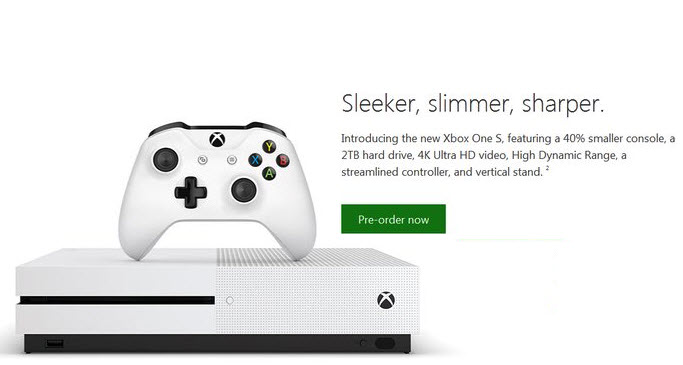 "With Xbox One S, at $299, you're getting 4K Blu-ray, a 4K upscaler for games and video, it's 40% smaller than Xbox One, and has the power supply built in. I think people are going to be blown away when they see HDR games and video, frankly. It's a pretty big difference."
We wrote recently about Microsoft potentially diluting its Xbox brand too much. Spencer is unconcerned and thinks the company is future proofing the product. 4K is a good example of this. Full HD (1080p) is still the more widely used display resolution. One day it will be 4K though, and the Xbox One will be ready for it.
"So when we were talking to gamers about what they expected, 4K was a natural next inflection point for hardware. We talked to the creators about the capability they needed in order to deliver games at 4K and at great frame rates. Six teraflops was what they told us."
Shorter Console Cycles
Spencer had talked in the past about the company not wanting to create an Xbox One .5. It is very hard to see how the Xbox One S is not that. There is no doubt that Project Scorpio could be a giant leap. It will feel like a new console, even if it does end up with Xbox One branding (not guaranteed).
Either way, it seems like a seven-year cycle for consoles is no longer viable. Companies will be overhauling their hardware more regularly, even if the finished product carries the same name. Ybarra points to the smartphone industry but says gaming must follow and make sure consumers can carry games across devices.
"According to what they're telling us, the consumer expectation is: games and apps had better work even if I upgrade. We're looking at the console business and asking how do we provide that choice to users? It resonates with them because other devices are doing that."
"Our commitment is to make sure every single game and every single accessory works across all of those platforms."
Shannon Loftis says developers have time to create content that will work now and be ready for the arrival of Project Scorpio:
"We can make sure that, through the Windows 10 development environment, they can put one or two features into a game to future-proof it against Scorpio. Taking advantage of dynamic scaling and things like that, a game they make for Xbox One today will run beautifully on S and run beautifully and look better on Scorpio".
UWP Concerns
The Xbox Play Anywhere feature arrived at E3. It is a kind of expansion of Microsoft's Universal Windows Platform idea. The company envisions an ecosystem where users can use Windows universally across devices and play games on any Windows device:
"We're really getting to a world where, as a game creator, you can focus on building one game and then selling it to both a console audience and a PC audience and connect those two via Xbox Live and the Universal Windows Platform," says Spencer.
Microsoft has drawn criticism from some over it UWP ambitions. However, Spencer rejects the claims that the company is trying to turn PC gamers into console gamers, reaping the hardware rewards in the process.
"But I bristle at the idea we're bringing the platforms 'together'. It's not that I'm trying to turn PC gamers into console gamers or console gamers into PC gamers. We just know, and I'm sure you're tracking it, the health of PC gaming is incredibly high right now, and we know some of our best and most active customers on Xbox One are also PC gamers – so we see this opportunity to service the customer and where they actually play, and they want to stay connected to their friends wherever they are."
See the full interview at The Guardian