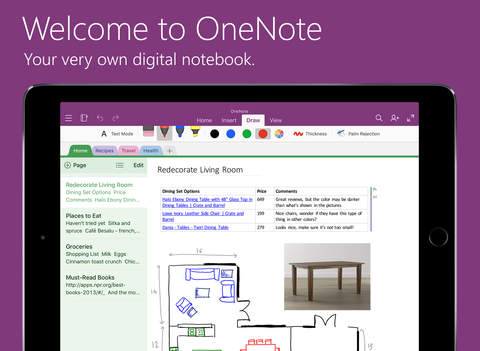 Microsoft is keeping its services fresh on rival platforms by rolling out an update for the company's OneNote application for Apple's iOS platform.
The main reason for the upgrade (Version 15.21) is to add OneNote compatibility for the newly launched 9.7-inch iPad Pro, but Microsoft has also added some new features.
For example, OneNote on iOS now gives users the ability to add more than one photo at once through the Insert Photos button.
Also landing with the update is QuickEmbed, which allows users to paste a URL from YouTube, Vimeo, Office Mix, and other video services, to create a playable preview.
Enhanced support for embedding Sway content in notes has also been added, while OneNote supports the Apple Pencil accessory that ships with the iPad Pro.
Microsoft today updated their OneNote app for iOS with support for the 9.7" iPad Pro and more. OneNote app now allows you choose to add several photos at a time from the "Insert Photos" dialog. Find the full change log below.
The company has been busy with OneNote over the last few weeks, although most updates have been focusing on the Windows 10 Mobile app. Audio capabilities were added to the app on Microsoft's own platform last week, while recently the company announced an import tool that lets Evernote users test OneNote without losing content.
Apple announced the 9.7-inch iPad Pro last month and said that the device was gunning for Microsoft and would entice Windows users away from their aging PCs. However, Microsoft announced Office would be free for users of the smaller Pro, furthering the company's mobile strategy that sees it offer its services on other platforms.
SOURCE: iTunes