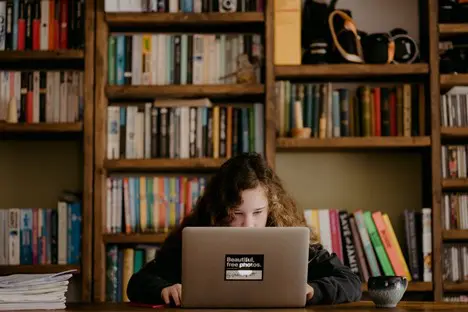 This article was contributed by Grace Johnson from Writer Corporation, an expert in Business and Accounting.
Education in the twentieth century was far more peaceful and slower. Just imagine: you had to wait for someone to finish reading the book you needed! Nowadays, we all have personal libraries on our laptops, but we have less time to read books.
Check our article on how to survive fast-paced learning and make technology your best friend.
Tip #1: Learn Touch Typing
Often called "speed typing," touch typing is one's ability to type fast and without grammar mistakes. And without a single look on a keyboard. Remember all those secretaries from Hollywood films who did the company's documentation like a pro? Now you can do it too.
Why is touch typing important to a student?
Tons of research. When you type in the search queries fast, you process more information. You can visit more sites and download more files. Yet, touch typing saves your precious studying time. You can also order an essay quicker than your classmates and get the best essay writers.
Sounds like an education. You can get a touch-typing certificate! It is a bonus for students who have no experience and must persuade an employer in their efficiency of basic office skills.
You kill two birds with one stone. Sites like TypingClub or Typing Trainer teach touch typing in a funny and efficient way. What is better than having fun and learning serious things at the same time?
Tip #2: Use Online Applications for Writing Your Paper
You already know how to search for valuable information online. But do you know which sources to use to avoid plagiarism or organize your bibliography in an academic fashion?
Credible Databases
While searching for a source, make sure the author of the article has academic credentials. A writer should be qualified in the subject they tell you about, especially when it comes to scientific research. The best places to search for peer-reviewed articles are JSTOR, CORE, and Sci-Hub.
Plagiarism Checkers and Citing Applications
Make sure your term paper or an essay is free from plagiarism and grammar mistakes. The best plagiarism and grammar checker is Grammarly. You can also try the Hemingway App, which would teach you writing in a comprehensible way.
To avoid plagiarism, cite your sources correctly both in the text and the References list. The best application for this goal is Citation Machine.
Tip #3: Choose a Laptop That Matches Your Needs
Fight off the temptation to own the most expensive laptop in the shop. The best advice here is to think twice before buying a gadget.
A great laptop for a student must fit the following criteria.
Have enough storage. With all those research papers and sci projects, you need good storage features.
Fall below one's financial limit. Don't buy a laptop with a superb graphics card unless you are an art and design student.
You should be able to study whenever you need, especially if you are a highly mobile person who visits two or more places.
Have a good battery. Again, all those hours at the college library demand a powerful battery from your device.
Tip #4: Choose Your Gadgets Wisely
Some gadgets work magic and support your studying in the most efficient way. Others are far from perfect and bring no good to your studies. Students often fall victim to ad campaigns and buy devices on a whim. It benefits the total revenues of corporations but not your pocket money.
Check the list of devices to improve your studying process:
a portable laptop with a good battery and enough storage;
a Kindle to save money on buying new hardcopy textbooks;
a flash drive to make tons of information portable from one device to another;
a power bank to recharge your phone or tablet;
a drawing tablet for art and design students.
Tip #5: Use Your Laptop to Save Money
So, you have bought the top necessary gadgets for students and got fully equipped for staying in college walls. But all those expenses hit your pocket in a great way.
How to get some money back or even double the yearnings? Apply your knowledge of technology in real time.
Sell. Use platforms like eBay, Craigslist, or Bonanza to sell the stuff you no longer need, like clothes and tech devices.
Buy. With the platforms mentioned above, you have unlimited access to second-hand items. In many cases, these things are in pretty good shape and come with much lower prices.
Work. Use LinkedIn to start a career or register at freelance sites for a stable income.
Study. Online courses on Khan Academy or Coursera are often free or demand a little fee to enter. Never has education been cheaper and smarter!
Tip #6: Take Some Free Time to Relax
No, we don't recommend you watch Netflix for hours unless it is a new season of Euphoria you've been waiting for for years. Otherwise, cut your screen time to restore your health and energy in traditional ways.
Hobbies. Catch up with your music tutor or a photography teacher.
Volunteering. The local shelter can use more hands to save homeless animals.
"People" experiences. When was the last time you saw a real human far from your laptop screen?
Reading. Though a printed word has disappeared into history books (pun intended), there is a chance a tech-savvy generation would read more. Start with yourself and check a local bookshop or a college library.
Physical activities. A sedentary lifestyle with all diseases caused by it has become pandemic long before COVID-19. It is another reason to fight it by taking a long walk or riding a bike.
Final Thoughts
We hope our article taught you how to get and apply technical skills. In the fast-paced world, time is everything. If you know how to save your precious minutes, you are a winner and a highly skilled future candidate for corporations to seek after. Keep calm and browse the world safely.
About the author
Grace Johnson from Writer Corporation is an expert in Business and Accounting. She has worked as a Financial analyst for 5 years, improving the efficiency of financial affairs in every department of his organization. The author consults various companies, analyzes market conditions, creates forecasts, and helps make tactical and strategic decisions.