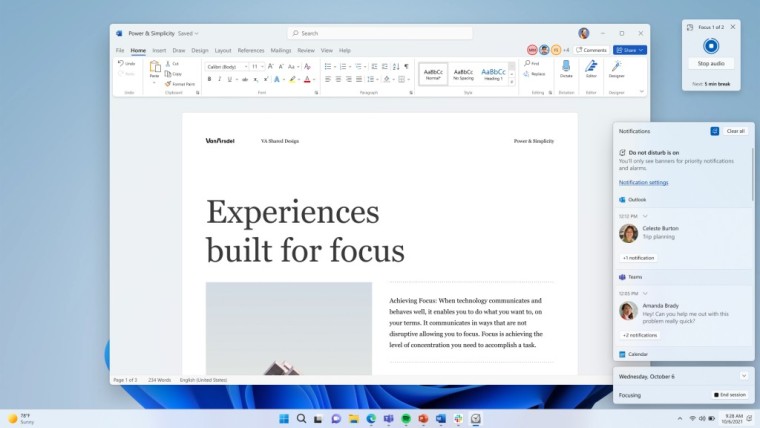 With the launch of Windows 11, Microsoft went to an annual feature update cycle for the platform. That means the upcoming Windows 11 22H2 will be this year's only major release. Microsoft is now detailing the four major features that will ship with this update.
Speaking of shipping, reports suggest Microsoft is reading to bring Windows 11 22H2 to RTM (release to manufacturing) this month. Quite how general availability in May means H2 (half 2) I am not sure, but either way, it seems the first full update for Windows 11 is incoming.
Focus is a new experience that adds several features to the OS. For example, the ability to turn on Do Not Disturb directly in the Action Center. This setting provides users to choose which notifications they want to show.
Next is Focus session, that sets up to give users more productivity on Windows 11. Specifically, it automatically triggers Do Not Disturb and turns off taskbar notification badges. Sessions also have a timer on them to remind users to take a break. Microsoft has built an integration for Focus in Spotify and the Windows Clock app.
Elsewhere, Microsoft is adding live captions for audio content across the entirety of Windows 11. This means the platform as a whole can transcribe captions from any audio. Microsoft points out this ability even works offline.
Voice Access
Voice commands are increasing to allow users to open apps, switch between them, browse the web, read mail, and author mails. With new Voice access abilities, Windows 11 will ask used to download a speech model for speech recognition. This new feature spread will be available in U.S. English initially.
"Voice access includes an interactive guide that explains how to complete common tasks using your voice. You can also access a complete list of commands by asking "what can I say?" when voice access is listening. Voice access even gives real-time feedback of what it heard so that you know which word was not recognized correctly when it makes a mistake."
Tip of the day: Windows now has a package manager similar to Linux called "Winget". In our tutorial, we show you how to install and use this new tool that allows the quick installation of apps via PowerShell or a GUI.