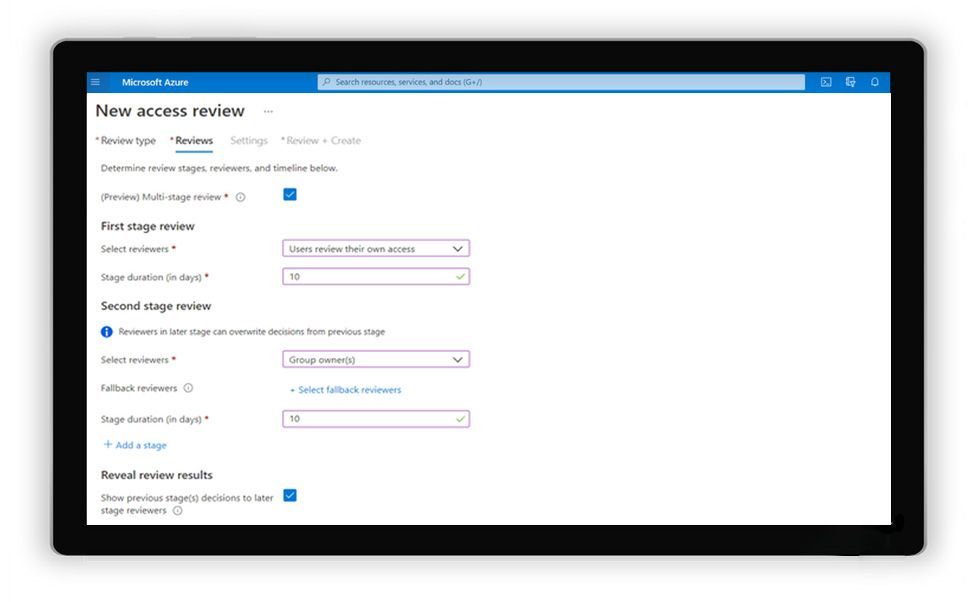 Microsoft is rolling out a new multi-stage reviews ability for cloud customers. Available in public preview for Azure AD access reviews, the feature allows users to build multi-stage reviews that function in sequence, each with its individual reviewers and configurations.
According to Microsoft, the new ability can also give tools for organizations to allow complex workflows to meet requirements for auditing and certification. Tools include being able to call reviewers to assess workflows in sequence, or to create clearer review parameters.
With the multi-stage review tools in Azure AD access reviews, auditors and resource managers will be able to work more efficiently without being responsible for all decisions. In a blog post announcing the feature, Microsoft says the following:
"Previously you may have artificially created multiple disjointed reviews to achieve the same purpose, but now with multi-stage reviews this all takes place in the context of just one review."
Feature Set
There are several ways in which multi-stage reviews can help Azure AD customers gain important certification, including
"Reach consensus across multiple sets of reviewers: Require agreement from independent reviewers at every stage before access is recertified.
Assign alternate reviewers to weigh in on unreviewed decisions: Ensure accounts left unreviewed by unresponsive or out-of-office reviewers are sent to the next appropriate reviewer, such as the user's manager or the resource owner.
Reduce burden on later-stage reviewers: Filter down the number of decisions for your later-stage reviewers by excluding accounts denied in previous stages. For example, have users attest to their own needs for access before asking the resource owners to attest."
Tip of the day: Due to the various problems that arise with microphones, it can often be necessary to perform a mic test. Microsoft's OS doesn't make it especially intuitive to listen to microphone playback or play the microphone through speakers. In our tutorial we show you how to hear yourself on mic with just a few clicks.