Ransomware has become one of the biggest issues in cybersecurity over the past few years. While malware has always been a problem for businesses, the popularity of ransomware among cybercriminals has grown significantly over the past few years. This form of malware locks a user out of their system or files, encrypting them and demanding a ransom for the files to be unlocked.
Ransomware can be devasting to a business, locking important files and resulting in millions of dollars worth of damage. While many businesses pay the ransom, it is usually ill-advised, and most cybercriminals won't ever unencrypt the files even if they receive payment. As a result, companies need to be vigilant against this type of malware and set up measures to protect against it.
While ransomware can be extremely damaging, there are ways you can protect yourself and your company to minimize risks:
Enhance Your Company Network Security
The first step in securing your business is ensuring that the network security you use is adequate. Modern businesses need high-quality antivirus software to detect and eliminate threats, especially if you're regularly online. For some businesses, it may also be necessary to use Software Defined Perimeter (SDP), which allows remote workers to log in and access your network safely. This prevents attacks through remote devices and helps keep your company's network secure from malware and ransomware.
Educate Your Employees
Most malware and cybersecurity attacks come from employees not following security protocols correctly. If you want to make sure your business is secure, one of the most important things you can do is educate your staff to take proper precautions. Preventative measures are always the most effective solution, after all. Employee education about warning signals, safe practices, and responses, combined with a good security program, can go a long way toward preventing these dangers.
Use Data Backup and Recovery for Important Files
The worst aspect of ransomware is that it could permanently destroy important files, possibly costing hours of work and significant amounts of money to replace. In order to lessen the impact of this type of attack, files should be backed up regularly and stored in a separate device offline. This improves security and means that if a ransomware attack does happen, important files are still safe. Backups should be carried out regularly to help prevent serious damage.
Keep all Devices Updated and Well Maintained
To keep your operating systems running smoothly, make sure your antivirus and anti-malware solutions are set to automatically update and scan on a regular basis. In addition, you'll want to make sure that any software is also regularly updated, as out-of-date programs and operating software can lead to security vulnerabilities.
Manage User Privileges
It's important to limit users' ability to install and execute software applications on network devices to reduce the risk of malware infecting your network. Make sure that your employees are unable to carry out major changes to their device unless trusted, as this is how the majority of cyberattacks happen. Many ransomware attacks come through opening links in emails and will then be able to make changes to the user's system. If they have privileges to install and execute software and are connected to a network, this means big problems for your company.
Ransomware can be a serious problem, causing millions of dollars of damages a year to businesses all over the world. However, it's relatively easy to avoid if you follow all of the steps above. Make sure that education, updates, and backups are all carried out regularly if you want to keep your company secure from threats.
About the author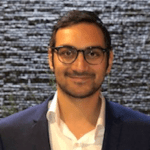 Ruben Bonan is the Founder of Marketing Marvel, an industry-leading Digital Marketing company. Through their services, Marketing Marvel helps organizations develop their brand awareness all across the world and increase their revenues by generating high-quality leads.