Microsoft disabled its Bing Trending feature after users noticed that the search engine was promoting potentially inappropriate content. After a tip, Ars Technica reported that searches for Shutterstock were being met with unexpected results.
Bing's trending articles section promoted stock videos with titles such as 'Boys Erection', 'Girls Take of Panties', and 'Little Girl Peeing'. However, though alarming, an investigation by Shutterstock and Microsoft found that none of the videos contained illegal content.
'Boys Erection', for example, contained harmless footage of two children erecting a tent. A video titled 'Big Tits Stock Video Footage' featured great tit birds in glorious 4K. All were in the realm of acceptable stock footage, but there was clearly something awry on Microsoft's side.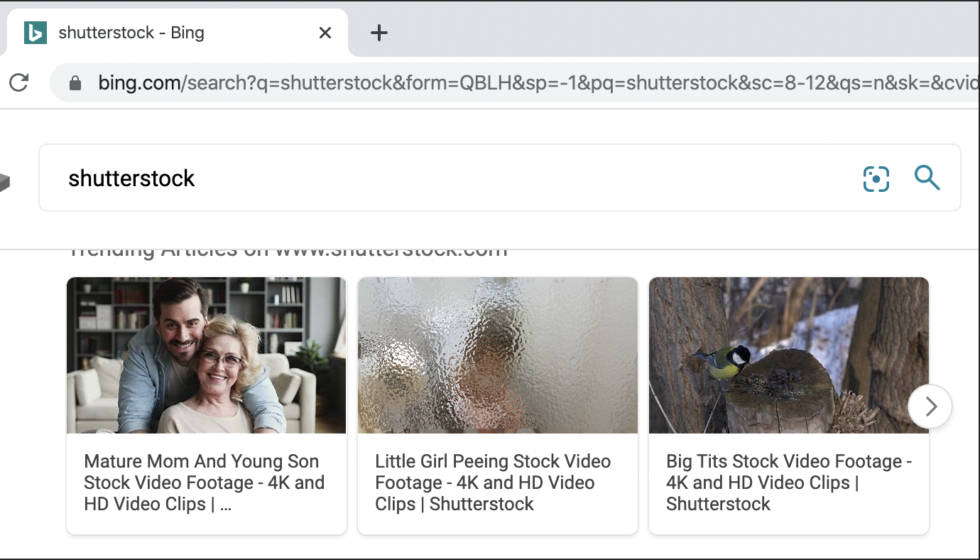 "These search results were unacceptable, and we appreciate Ars Technica making us aware of them," Microsoft said a statement to Ars Technica on Wednesday. "We've disabled the preview feature responsible for these results while we examine how they occurred and how we can prevent them in the future."
Curiously, Shutterstock says the titles on Bing trending did not match those on its site. Contrarily, Microsoft suggests all the data did come from the image hoster. It's possible the titles were mashed together from the videos' tags, descriptions, or common searches for the content. Either way, Microsoft's filtering algorithm really should have cut them out.
It's also worth noting that this isn't the first time the company has come under fire for filtering failures. In January last year, a study found that Bing was displaying and recommending child pornography under several search terms. Microsoft promised changes, but a new report last November showed it was still struggling. With hope, its fixes for the trending feature will be more permanent.