Where is the Windows 10 Sound equalizer? Well, the answer is – there is none – with a big BUT.
Because on Windows 10 systems, you CAN actually use an equalizer to adjust the system sound to your liking. It´s just not a native Windows 10 audio equalizer.
If you search for a music equalizer in the audio settings of Windows 10, you won't find anything there at first sight.
Whether in Windows Mixer, Sound Settings, or Audio Options – Windows 10 itself doesn't have an equalizer.
However, this usually doesn't mean that you have to compromise on sound adjustments for more or less bass and treble. There are basically two common ways to use a Windows equalizer:
The driver-based equalizer for Realtek audio chipsets

Equalizer APO + Peace Equalizer interface as a freeware solution
The driver for the Realtech chipset, which is installed in the vast majority of Windows 10-systems luckily comes with a sound equalizer of its own.
Before you can use it, the corresponding Realtek driver must be installed on your system. If this is not the case, you can download a current version for many Realtech sound chips here.
If your PC doesn´t use Realtech audio or you want a really professional solution, below we show you the freeware Equalizer APO for Windows which supports more than 31 bands and custom presets.
1. The Realtech Windows 10 equalizer for compatible audio chipsets
After a right mouse click on the speaker icon on the right side of the taskbar you can directly open the "Sound Settings" from there.
Then click on "Device properties" just below the selector of your output device.
Open "Additional device properties".
This opens the driver options for your Realtek driver software. There you switch to the "Enhancements" tab.
There you can activate various sound effects and also the Windows 10 equalizer. Using "Setting" you can select different predefined sound profiles for music types such as Pop, Live, Club, Rock, Bass, Treble, Vocal, Powerful Dance, Soft, Party, Classical an Jazz.
Clicking the button to the right wiht three dots you can alternatively open a graphic aound equalizer with the familiar sliders for different frequency ranges.
2. Equalizer APO for Windows 10 as a Powerful Freeware Alternative
Equalizer APO for Windows upgrades your system with a parametric/graphic equalizer implemented as an Audio Processing Object. Microsoft writes:
"Windows allows OEMs and third-party audio hardware manufacturers to include custom digital signal processing effects as part of their audio driver's value-added features. These effects are packaged as user-mode system effect Audio Processing Objects (APOs)."
The nice thing about this freeware equalizer is that you can activate it separately for any audio-device which means you get both an input equalizer for your microphone audio and one for speakers, headphones or line-out.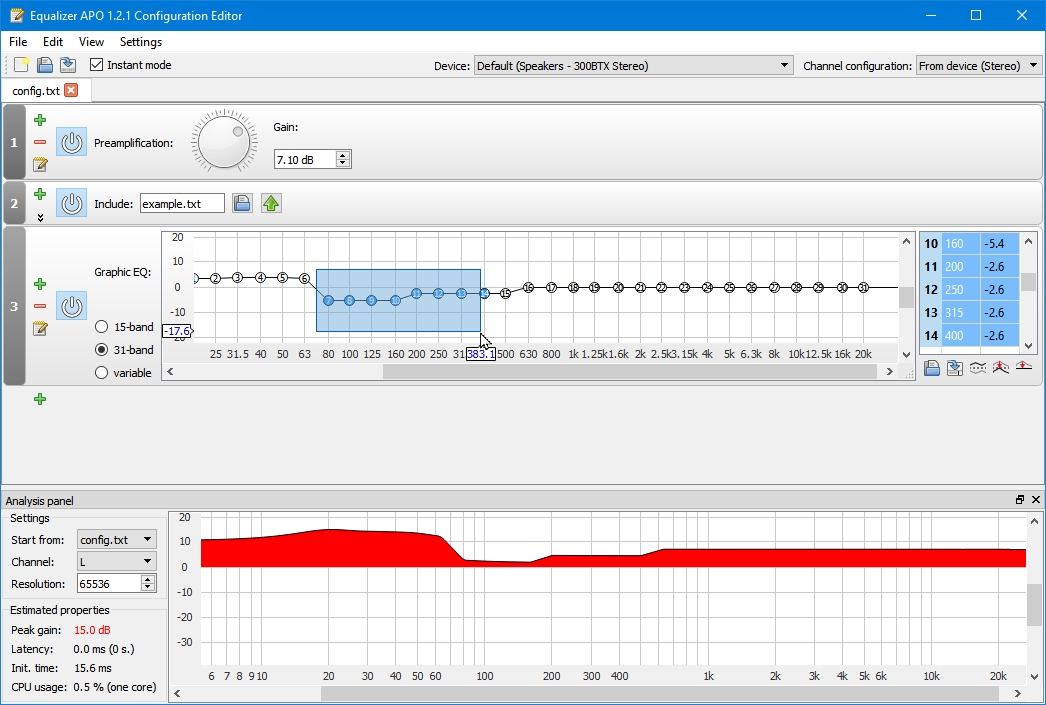 Equalizer APO supports two pre-installed modes to use it either as a 15 band or a 31 band equalizer. In variable-mode you can however add nearly endless frequency sliders on your own to fine tune your sound even more. A useful mouse-selector allows for adjusting several sliders at once.
With a separate channel configuration Equalizer APO also adjusts easly to complex setups up to Dolby 7.1 Surround.
Peace equalizer download
As an addition to Equalizer APO you might want to download and install the freeware "Peace equalizer" which is a separate Windows PC interface for Equalizer APO. It allows to save and activate again by 1 click, hotkey, tray or desktop shotcut your owns configurations (e.g. EQ, presets, profiles).