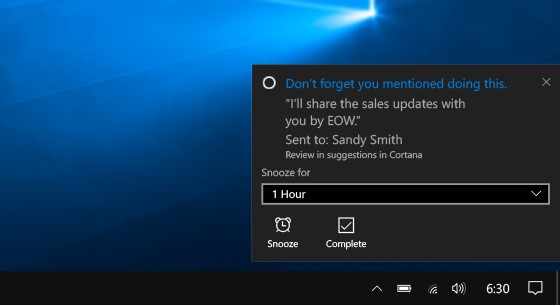 There's no doubt that Cortana is getting more intelligent with time, but today marks a particular leap for the digital assistant. Microsoft is rolling out intelligent reminder suggestions based on user's emails.
The feature uses machine learning to scan approved inboxes for commitments. When you promise to send a document, for example, the AI will pick up on this and set a notification. This marks a much more proactive approach where Cortana will suggest things without user input.
Microsoft is calling the feature Cortana Suggested Reminders. It's currently available with Windows 10 in the US, and will roll out to iOS and Android soon. It supports Outlook.com and Office 365 for work and school addresses.
Microsoft AI Strategy
This change is a big step in Microsoft's overall vision for AI. CEO Satya Nadella has previously noted that they want to help humans, not replace them. In this case, Cortana doesn't send the email for the user, nor does she complete the work for them. She simply reminds users to do tasks they may forget otherwise.
No doubt this is part of a larger project. Cortana already gives notifications for people, places, and times, and it's likely we'll see more proactivity in future builds. According to  Cortana partner group manager Markus Ash, the feature comes from Microsoft's research division. A major pioneer was the team's managing director, Eric Horvitz.
"One piece of the invisible revolution is tools that magically augment human cognition," he said. "How can we automatically figure out what people might forget, what they want to remember and how they manage their time and get things done?"
Cortana already picks up on subtle email clues such as 'I'll finish this by EOD'. As the AI evolves, she'll phase in and out popular phrases and add company specific slang.
Users can help with this growth by trying out the feature today. Head to Cortana's permissions section and enable 'Contacts, email, calendar & communications history'. You can find more information on the Windows blog.