Office customers using Outlook groups on the web are getting a new feature. Microsoft has announced a new file experience for the service. In an Office blog post, the company says this new addition makes it easier to collaborate on documents in Outlook for the web. This can be used to share documents and collaborate through email.
The new file experience on Outlook for web introduces two main features. Microsoft says a new view system that brings all documents within a group. This means a group can view all of their work within the email client.
Users can also set Outlook to have multiple authors who can edit documents. This can be done side-by-side with an email.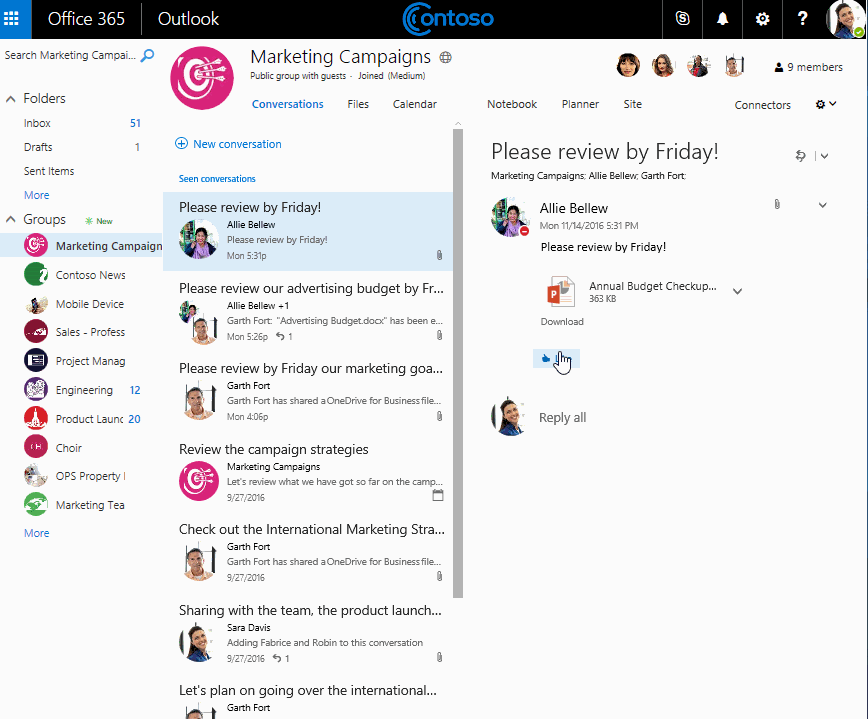 Microsoft explains the changes in its blog:
"Access all your group documents—A new file view gives you access to all the documents shared with the group, including files shared as email attachments, files stored in the group's SharePoint document library and files shared from OneDrive or other SharePoint document libraries.
Co-author and communicate updates quickly—Now you can edit a document and reply via email side-by-side, so no need to switch contexts to update a document and communicate about the changes with your colleagues."
Outlook for Web File Experience
New files are now accessed form the group header ribbon. This allows Office documents from Word, Excel and PowerPoint to be created in Outlook for the Web. Users also have the ability to edit and download files within the service.
Skype for Business is also integrated so users can track who has edited a document and contact them. Interestingly, there is no need to download an attachment because files can be edited as email attachments. Replies and the ability to store a copy in SharePoint has also been added.
Microsoft explains "When you click Edit and reply, the file is automatically added to a new folder in the SharePoint document library called Email attachments, creating a single version for the file, enabling co-authoring for the group and making it very easy to track changes."