AppRaisin, a UWP app that helps Windows users to keep up with the latest Windows Store deals, will no longer be actively developed, says AdDuplex CEO Alan Mendelevich.
Though the application will remain accessible, no new features or fixes will be coming in the future. In a blog post from today, Mendelevich justifies the decision.
Lack of Growth
The main reason behind the changes to AppRaisin is its lack of user growth, and therefore lack of a profitable model:
Our plan was to have 100,000 monthly active users by the end of this year and various "napkin" revenue projections were based on that number," says Mendelevich, "As of early August we have a little under 25,000 monthly active users and adding 1–2 thousands every month."
The CEO admits that unless there is a sudden explosion in users, AppRaisin won't reach its goal of 100,000, and won't break even in its first year. Medelevich also talks about what factors led them to this point, and first on his list is Microsoft:
"The biggest tax on our numbers comes from Microsoft's 'strategy' around Windows 10 Mobile. I put "strategy" in quotes because there either isn't one or it is so deep and 'forward-looking' that I fail to understand it."
The second problem was Microsoft's late adoption of the Windows 10 Mobile platform. AdDuplex expected the update to roll out to all Windows 8.1 users. The reduced list of phones announced at launch meant that the app lost almost half of its predicted user base.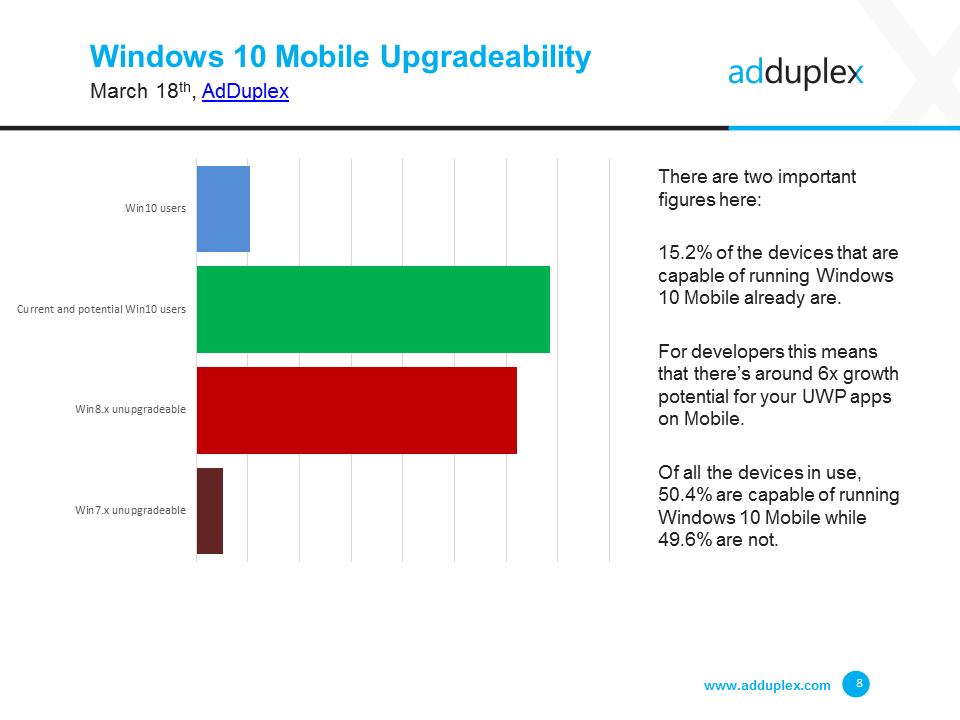 Furthermore, those that could upgrade didn't receive it automatically – they had to download a particular app manually. More that 79.1% of Windows Mobile users are still on 8.1, and 4 out of 5 AppRaisin users are on phones.
Windows Store Bias
Mendelevich also accuses Microsoft of intentionally keeping their app away from the "featured" section to control app merchandising. He claims Microsoft employees suggested this to him personally:
"I was in Redmond in early November (few weeks before our launch) and demoed AppRaisin to a bunch of Microsoft employees among others. Everyone seemed to like it, but when I tried to discuss possibilities of being featured, their facial expressions changed. The responses ranged from "Hmm. I'm not sure they would want to feature you."
Over nine months, AppRasin did not feature on the store, nor did it appear in the Windows Store "New and Rising" or "Top free" lists. Medelevich claims that he pressured Microsoft to change their practice, but by then it was too late.
The CEO also lists a number of other business decisions that were behind the app's downfall, and you can read the whole story over on his blog.
Despite the lack of active development, AppRasin will still update with the newest Windows apps, and you can still download it today. Just don't expect a lot of feature updates.
AppRaisin is hosting a crowdfunding campaign to try and receive the $10,000 funding it needs. You can find that here if you wish to donate.