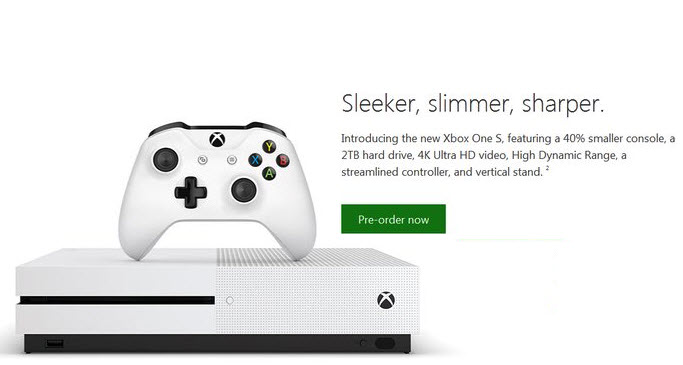 The rumours of Microsoft launching a "slim" Xbox One at E3 press conference are quite real.
Multiple NeoGAF members have posted images of the new Xbox One S, pointing to a major design overhaul for the console.
According to the NerdLeaks, a leaker group with a solid track record, the Xbox One S will be available for at least $299.
Introducing
Xbox One S

Starting at
$299

— NerdLeaks (@Nerd_Leaks) June 13, 2016
As already mentioned by Microsoft, the leaked image reveals a "sleeker, slimmer, and sharper" Xbox One with 40% less bulk. The power brick is internal for shedding extra weight from the system, and there's also a new "vertical stand" and "streamlined controller" for a change.
However, it is still unclear whether it is a new gamepad with added features or just an overhaul of the current controller.
The announcement image also suggests Microsoft is planning to introduce the 2TB version of Xbox One S. It will support 4k UHD video output and will come with high dynamic range (HDR) imagery.
Microsoft has already lost the 8th generation of consoles in terms of sales. Sony is still leading, but saying no to the launch of PS4 Neo has released some pressure from the Redmond-based giant. The company will now head into E3 as the only console maker to introduce a new machine.
What more to expect?
During the E3 conference, Microsoft is likely to discuss its gaming division and Universal Windows Platform (UWP) to integrate Xbox into a wider Windows 10 ecosystem. There will be plenty of game announcements too, but expect the focus to be on how Microsoft wants us to be able to play games across multiple Windows devices.