Insiders running Windows 10 Pro with the Insider build 14328 are able to see the Windows 10 Pro Education SKU via Command Prompt.
Microsoft is reported to be working on a new SKU that would expand the Windows 10 range, giving consumers more options when shopping for a build of the platform.
The Stock Keeping Unit (SKU) in question is Windows 10: Pro for Education, which will sit alongside existing SKUs Pro, Enterprise, Home, and more notably Education.
Indeed, Windows 10: Pro for Education is the sister SKU of the normal Education offering from Microsoft, and surprisingly the company is keeping the release quiet at the moment.
The SKU has been found in the Windows 10 Insider Preview build 14328, which we reported about last week when it was rolled out to those on the Insider Program.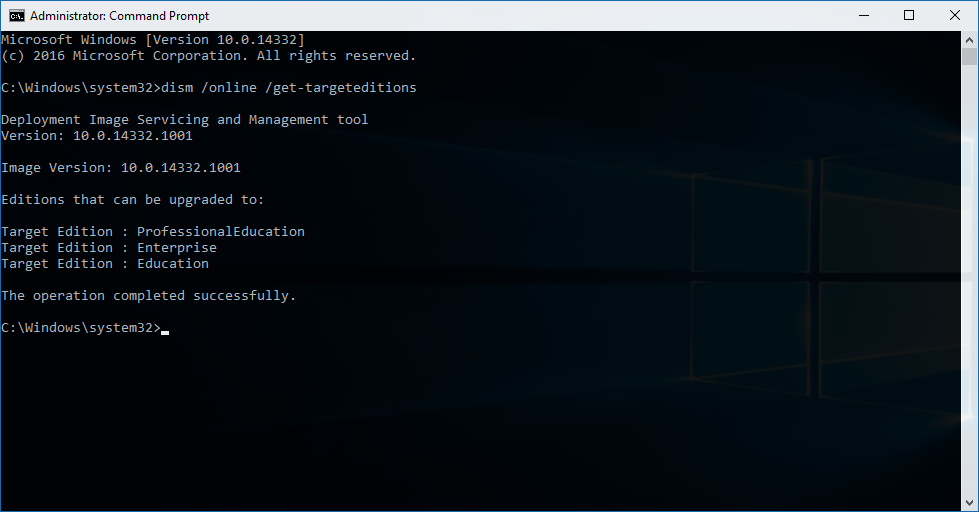 Insiders running the Pro SKU of Windows 10 and with Insider Build 14332 are able to see which editions of the platform are available, including the new Pro Education SKU. This can be seen by using "Dism/Online/Get-TargetEditions" command in CMD.
As this SKU is not official yet, it probably means Microsoft is preparing it to coincide with the Windows 10 Anniversary Update that will land this summer. The company could also launch Windows Pro Education in time for the back to school season in August, giving education institutions and students time to get on board with the new version.
That begs the question, what are the differences between standard Windows Education and Windows 10 Pro Education? That is not clear at the moment, but the obvious answer would be an expanded feature set and functionality that is not available on the regular Education SKU.
As always, we will keep you posted on any developments regarding this new SKU, including any feature details that may leak out in the coming weeks and months.