Microsoft is offering some OneDrive users close or above the reduced free storage 5GB limit a one-year Free Office 365 Subscription.
The company is sending out e-mails to some OneDrive users that might be affected by the cut-back 5GB free storage plan.
End of last year, Microsoft announced to reduce the free OneDrive storage from 15GB and to stop offering unlimited storage for Office 365 users.
The company opted for this highly unpopular decision after many users started to abuse the free Office 365 offering, storing as much as 75TB in single accounts.
Facing a big user backlash, the company reversed the decision partly, letting users to opt back in for a limited time until January 31, 2016.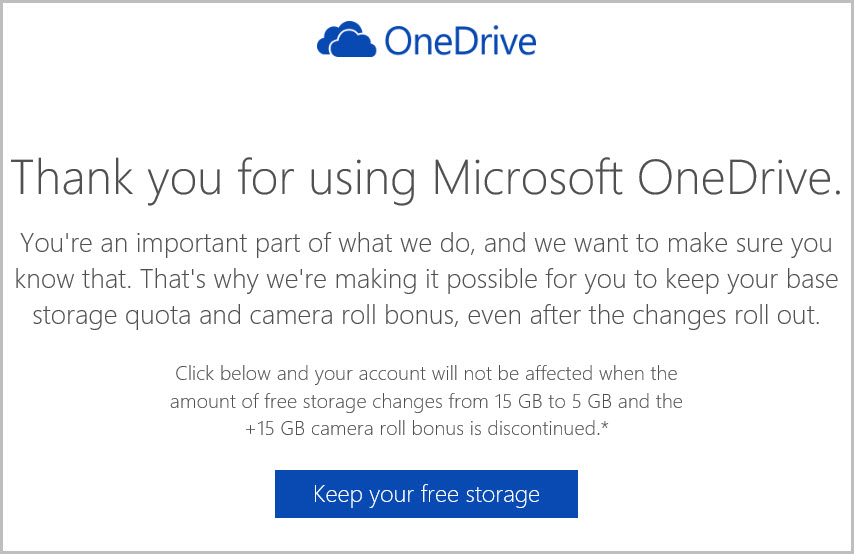 In the emails sent out now, Microsoft offers some users which are affected by the cut-back from 15 to 5 GB a free one-year Office 365 subscription which includes 1TB of OneDrive storage.
"As you know, the amount of storage that comes with most OneDrive accounts is changing from 15 GB to 5 GB. You previously confirmed your desire to keep your 15 GB of free storage (and the 15 GB camera roll bonus if you have it).* As a result, your account will not be affected by these changes.
We also want to extend an offer that we are making available to users who are close to or will be over the new storage limits. You can claim a free one-year subscription to Office 365 Personal.** This subscription includes 1 TB of OneDrive storage.
We want to apologize for any inconvenience these changes may have caused you. We listened to our users' feedback, and we are committed to making OneDrive the best option for people who want to be productive and do more.
Thank you for using OneDrive. – The OneDrive Team"