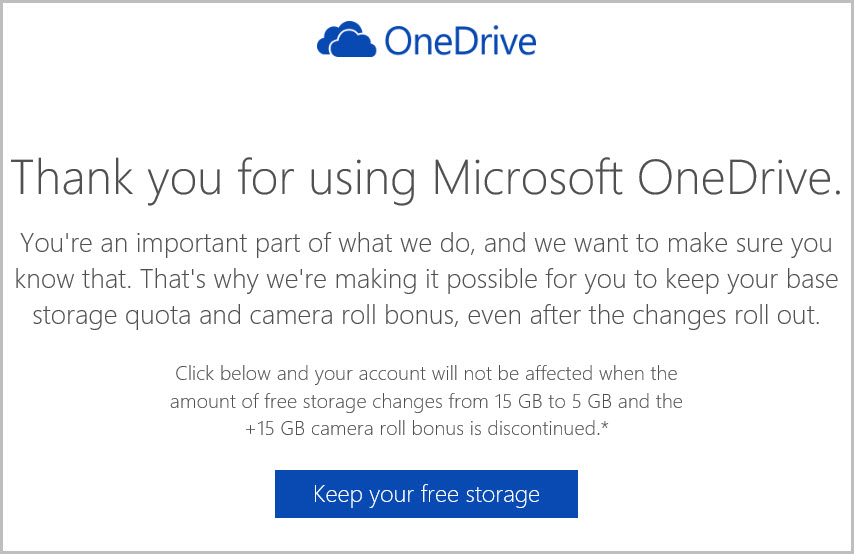 After announcing major changes to its OneDrive cloud storage service last month, Microsoft now has made some compromise to disgruntled fans. However, it is not the return of the unlimited storage.
Microsoft surprised OneDrive users last month with the announcement that the previously promised unlimited storage for Office 365 subscribers would be reduced to 1TB. Also, free storage for all other users was cut from 15GB to 5GB.
Today's announcement grants subscribers to keep the 15GB storage and 15GB for "camera roll" if they opt-in here. If they didn't do so by January 31, 2016, the 15GB storage would be cut down to 5GB and the camera roll bonus will be discontinued.
However, a subscriber with a OneDrive account with more than 5GB of files will be offered a free one year of Office 365 Personal which has 1TB of storage. "If you are using more than 5GB of free storage, you will continue to have access to all files for at least 12 months after these changes go into effect in early 2016," Microsoft clarifies.
Additionally, the Redmond giant added a further concession for its "biggest fans who have been loyal advocates for OneDrive". However, users still have to opt in to gain access to it.
"…we are adding a new offer that lets you keep your existing 15 GB of free storage when the changes happen next year. If you also have the 15 GB camera roll bonus, you'll be able to keep that as well."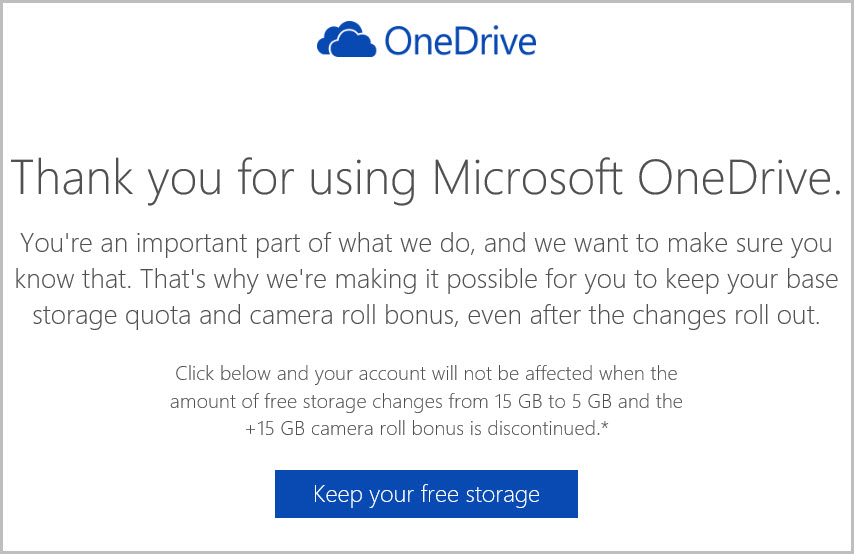 A step in redeeming trust back
With an apology, Microsoft returned to the issue with some concessions to existing OneDrive users. Douglas Pearce, Group Program Manager at Microsoft apologizes.
"We are all genuinely sorry for the frustration this decision has caused and for the way it was communicated. Thank you for sticking with us."
Pearce also clarified that Microsoft is not going restore its unlimited storage feature for current Office 365 users. Any subscriber who is "unhappy with the decision" are eligible for a full refund.
Source:  Microsoft via Venturebeat