Although Google Apps for Work has given Microsoft a run for its money, evidence proves that Office 365 has managed to take a lead with more number of active users.
Data suggests that Microsoft has pulled firmly ahead. And, according to various sources, it's mainly because many company CIOs still think that Google doesn't do a good enough job in supporting them.
On the other hand, a Google Works executive told Business Insider, that those complaints are based on an old, outdated misconception.
Microsoft In the Lead
For Google, it's hard to tell how big their growth has been. Last year, the company announced 1,800 signups per week for Drive. But recently, it gave a whopping number of 1 million paying businesses as customers, which does not includes individuals, but companies for Apps for Work and its storage + apps platform Google Drive for Work.
Microsoft, on the other hand, has not announced its total number of business customers for Office 365, although it did say last month that number of active employee users grew to 60 million.
there are now 60M monthly active users of O365 commercial, and we've added 50k SMB customer in each of last the 19 months! wow!

— Brad Anderson (@Anderson) October 23, 2015
The number is quite humongous, but still, it's a drop in the bucket compared to the estimated 1.2 billion people that so far use Microsoft Office.
Okta, a company that manages employee passwords to corporate cloud apps, released a chart showing both apps are popular and growing, but the usage of Office 365 is ahead of Google.
While Office 365 passed Salesforce to reach the top this year, Office 365 left Google apps behind already in 2014.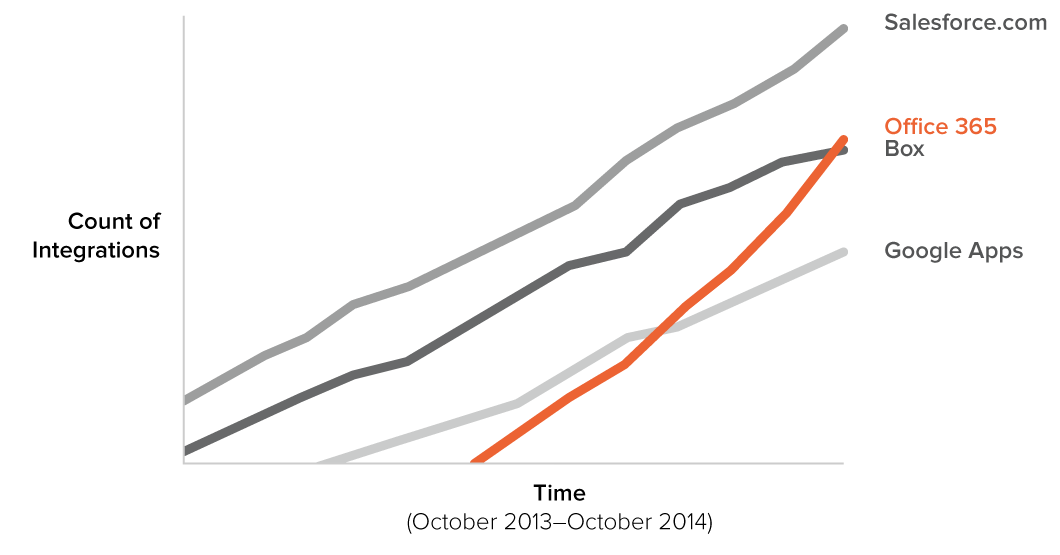 According to Okta, "Office 365 is used across companies of all sizes. Workday, Clorox, Seton Hall University and DocuSign– all very different organizations in terms of age, size and industry". Some types of businesses however seem to favor either Microsoft or Google.
"Banking, food & beverage and manufacturing favor Office 365 over Google Apps.
Consulting and law firms, as well as general technology companies, are more divided with pretty even adoption of Office 365 and Google Apps.
Google Apps is the clear choice among advertising firms, educational institutions and software companies."
For the battle between Office 365 and Google Apps, Todd McKinnon, Okta CEO told Business Insider that on one hand employees "love" Google apps, and find them easy to use. But, for CIOs, there is another story.
"Office is doing very very well compared to Google Apps. I talk to our customers, CIOs, all the time and they tell me Microsoft is being very aggressive about listening to them and their needs and Google isn't," McKinnon says. "I think Google needs to be more front-footed about listening to these big companies."
Shahla Aly, the leader of customer support for Google for Work contradicts this saying, "I'm happy to say this is a years-old misperception at this point. I am responsible for our large customer programs, and my team delivers roadmap presentations to customers and prospects almost daily."
Jeffrey Mann, a research VP specializing in collaboration and social software at Gartner says that a different sales approach design is a reason why Google is lagging behind. According to him Microsoft has a huge and extensive sales machine, "and a much more complicated sales and pricing process to match,"
While Microsoft appears to be feeling comfortable with this lead, Google is doing especially well with startups and companies with younger employees – the next generation. Clearly, the fact is, it's a long race, and these two giants will compete for years to come.
Source: Okta, Business Insider