Windows 10´s support for Virtual Hard Disks is a real benefit. For example, you can boot and run complete systems from just a single file. And if needed, you just plug them in a different PC like if you had moved a real disk. Here is how to create VHD / VHDX virtual disks in Windows 10.
1. Open Windows 10 Disk Management
Do a right click on the Windows 10 Start button, then click on Disk Management. Disk Management is an extension of the Microsoft Management Console which manages any the disk-based hardware recognized by Windows 10.

2. Create a new Virtual Hard Disk (VHD/VHDX) in Windows 10
Disk Management gives you an overview of all found drives, disks and partition of your system. In the menu, click Action > Create VHD to lauch the Windows 10 virtual hard disk creation tool.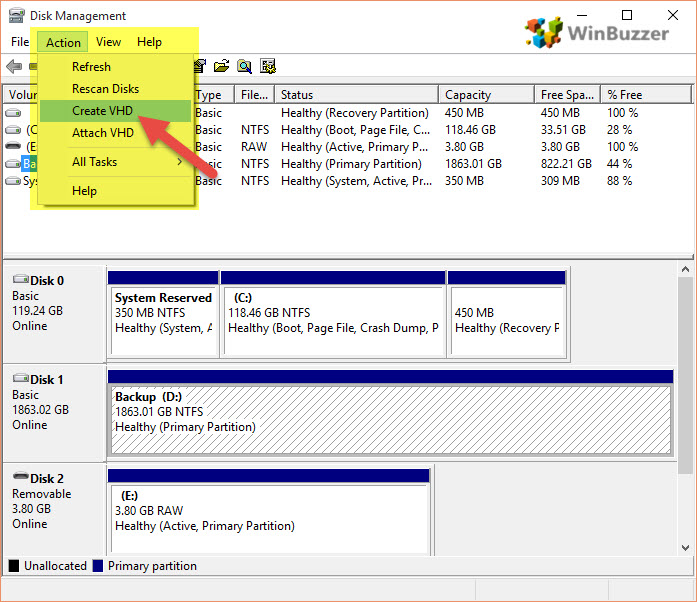 Set name and location of your Virtual Hard Disk
As the first step you have to choose a place and a name for your virtual hard disk. Windows 10 will create a single file which can be copied, moved and renamed later if needed. The type (vhd / vhdx) does not matter here and can be defined in the next step.
Choose Disk Size, VHDX and Dynamically Expanding
Choose the virtual hard disk size you want and activate the Dynamically expanding feature to not waste disk space for nothing. Windows 10 will then only use the space really needed. You can set the disk size of your Virtual Disks to a value that by far exceeds your needs as the space will not be used immediately.
As you are planning to use the virtual hard disk with Windows 10, you should choose VHDX which is a newer and improved format for virtual disks. VHDX allows for extra large virtual disks of more than 2 Terabytes, which you might not need.
But VHDX also offers protection for power failure events or other system crashes which might damage your virtual disk.
After you click OK Windows 10 Disk Management will list your newly created virtual hard disk. To use it, you need two more quick steps.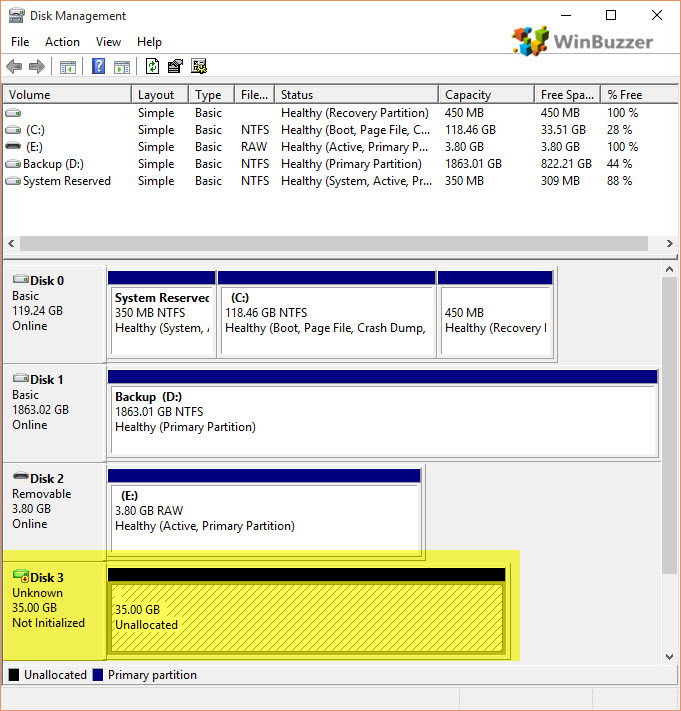 2. Initialize Virtual Hard Disk (VHD/VHDX) in Windows 10
Right click on the left description area of your new virtual hard disk where it says Not initialized and choose initialize disk.
In the Initialize Disk dialog, select GRP (GUID Partition Table) as partition style. GRP is a newer and better partition standard with a large set of advantages over MBR, which is only needed for older systems that do not support GRP.
3. Assign Drive Letter to Virtual Hard Disk (VHD/VHDX) and Format Partition
Your Windows 10 virtual hard disk has now a partition which just needs a drive letter and to be formatted. Right click on the right area of your virtual hard disk and then on New Simple Volume.
This opens the New Simple Volume Wizard where you have to do the following things.
Choose all of the available disk space at Simple volume size in MB
Assign a drive letter that is still free
Choose NTFS for File system and Default for Allocation unit size
Name your virtual hard disk at Volume label
4. Using your Virtual Hard Disk (VHD/VHDX) in Windows 10
The virtual hard disk now appears like other drives in Windows 10 Explorer and can be used just like any other disk. When you hover over the symbol you can see that the dynamically expanding feature is on. Although you assigned more space, the actual virtual hard disk file is only using the space it needs.